Colonial 30 - Level 3 Security - 60 Minute Fire Protection - White Gloss - Black Chrome Electronic Lock
Regular price
$1,849.99
Save $0.00
---
Lifetime Warranty • Made in the USA
Great Features - Better Value
---
Our Colonials offer 50% more fire protection than competitor safes at the same price. With a 60-minute fire rating, specialized door storage panel, military-style locking bars on all 4 sides of the door, our upgraded electronic lock, and the ability to hold anywhere from 25-64 long guns, the Colonial gives you amazing value for your money. Plus, you can choose from 10 different color combinations! Upgrade to our Colonial 50 Extreme and you'll get even more storage with our 6-in-1 Flex Interior.

Lifetime Warranty • Made in the USA
Liberty's Colonial Safe employs its exclusive 2-piece 11 gauge body, making it much stronger compared to hand welds used by most other brands. Up to 10 4-inch military style locking bars and now on all four sides of the door, leaving no compromise in security. These fire resistant gun safes are available in three popular sizes, 23, 30 and 50 size models now come standard with Liberty's popular ECONOMY DOOR PANEL for more storage options. 23 & 30 size models available with classy marble gloss colors - each designed to fit home decors with long lasting durability. 50 size models available in textured granite finish only. Lifetime Warranty
Fire Protection
Certified for 60 minutes @ 1200° F
Better Fire Protection with certified 83,000 BTU fire rating
Advanced fire & heat protection (3 layers of 5/8" fireboard in the ceiling, doorjambs and door, with another 2 layers in the walls). 
Palusol™ Heat Activated door seal expands up to 7 times its size and sealing door edge to help keep out smoke and heat
Security
Awarded UL™ Residential Security Container (RSC) burglary classification
11 guage 2-piece roll form body. Toughest safe on the market!
Triple case hardened steel plates protect lock from drill attack. Even UL couldn't drill through them.
These granite gun safes feature a defensive barrier of up to 14-4 inch military style locking bars fortify the door.
Cam-drive bolt locking mechanism with slip clutch SURETIGHT 3-pt handle thwarts break-in
UL Listed S&G™ Group II lock with keylocking dial guards against lock manipulation
Optional BackLit electronic lock available
Style & Function
The Liberty Colonial Safe features an economy door panel now standard for more door storage options, pistol holders and zip pockets (large zip pocket at the bottom is not a COOL POCKET).
Marble color options available on 23 & 30 size models! The larger CO50 comes in only granite textured.
3-spoke SURETIGHT handle plated in black chrome, brass or chrome (depending upon selected exterior color)
Upholstered 3-in-1 Flex interior in gray or camel fabric or choose the Liberty Colonial Safe 50 Extreme with its unique 6-in-1 flex interior, holding up to 60 long guns. 
Available in 23, 30 & 50 size models, holding up to 25, 30 and 64 (CO50) or 60 (Extreme) long guns respectively. The standard CO50 has double collector racks-32 guns on each side while the CO50 Extreme has 3 collector racks holding 20 long guns each
Colonial Specifications:
---
Security

Security Rating 
U.L. LISTED Residential Security Container (RSC-8M10)  
Door Type 
Composite INTERNAL Ball-bearing Hinge with Inner steel Band 
Door Thickness 
4.5" total width including 1" Composite door front 
Door Bar / Bolt Sides 
4 sided bolt coverage (3 active sides)* 
Body Steel Thickness 
11 Gauge, 2-piece roll form 
Total Body Thickness 
1-3/8" Steel and Fireboard 
Lock 
UL Listed SecuRam BackLit electronic lock 
Lock Type 
S&G™ 6741 mechanical lock (with key locking dial) standard with optional upgrade to SecuRam BackLit electronic lock 
Relocker Type 
Fail-Safe™ Thermal/spring-loaded inside lock plus External spring-loaded 
Hardplate Lock Protection 
Triple RC63 hardplates 
Locking Mechanism Type 
Direct Cam-Drive 
Bar / Bolt Type 
4-Inch Military Style Locking Bars - 1/4" Thick 
Bar / Bolt Protector Type 
EZ-Glide 
Bar / Bolt Count 
Up to 10 
Fire Protection

Fire Rating 
60 MINUTES @ 1200 Degrees 
Fire Temp 
1200 Degrees Fahrenheit with 10 minute ramp up 
Fire Minutes 
60 Minutes 
Layers 
3 in ceiling, door and door jambs, and 2 in the walls (Note: Liberty includes fireboard in the door jambs above and below the hinges) 
Door Seal 
Heat-Activated, Expanding Palusol™ 
Style & Functionality

Fabric Type 
Fabric 
Upholstery 
Fully Upholstered 
Handle Style 
3-Spoke SURETIGHT 
Interior Type 
3-in-1 Flex / 6-in-1 Flex on 50 Extreme 
Interior Lighting 
optional 
Door Panel 
Yes, Economy style (no COOL POCKET) 
Model Details by Size

Colonial 23
Colonial 30
Colonial 50
Colonial 50 Extreme
Long-Gun Storage
(PLEASE NOTE: Gun capacity may vary depending upon size of guns and scopes)
25
30
64 (2 collector racks of 32 each)
60 (3 collector racks of 20 each)
Dimensions H x W x D (Depth includes handle spokes installed; Add 1.5" for optional outlet kit)
60.5" x 30" x 26.5"
60.5" x 36" x 26.5"
72.5" x 42" x 32"
72.5" x 42" x 32"
MIN. DOORWAY WIDTH CLEARANCE TO DELIVER SAFE*
24
24
29.5
29.5
Exterior Height
60.5
60.5
72.5
72.5
Exterior Width
30
36
42
42
Exterior Depth (Includes handle spokes installed; Add 1.5" for optional outlet kit)
26.5
26.5
32
32
FOOTPRINT (Width x Depth)
30" x 22"
36" x 22"
42" x 27.5"
42" x 27.5"
Exterior Cubic Feet (safe body only)
23.1
27.7
48.1
48.1
Interior Height
56.5
56.5
68.5
68.5
Interior Width
26
32
38
38
Interior Depth
14.5
14.5
20
20
Interior Cubic Feet
12.8
15.7
30.1
30.1
Warranty
Limited Lifetime
Limited Lifetime
Limited Lifetime
Limited Lifetime
Weight
615 lbs.
689 lbs.
990 lbs.
1028 lbs.
Country of Origin
United States
United States
United States
United States
Starting Price**
$1,399
$1,599
$2,099
$2,249
*Certain dealers can deliver through a smaller door by removing the handle hub and lock housing.
**Price may vary depending on finish.
NOTE: Measurements and dimensions are + or - 1/8" to all measurements for manufacturing variances.
Liberty reserves the right to change or update product specifications, colors and model sizes at anytime.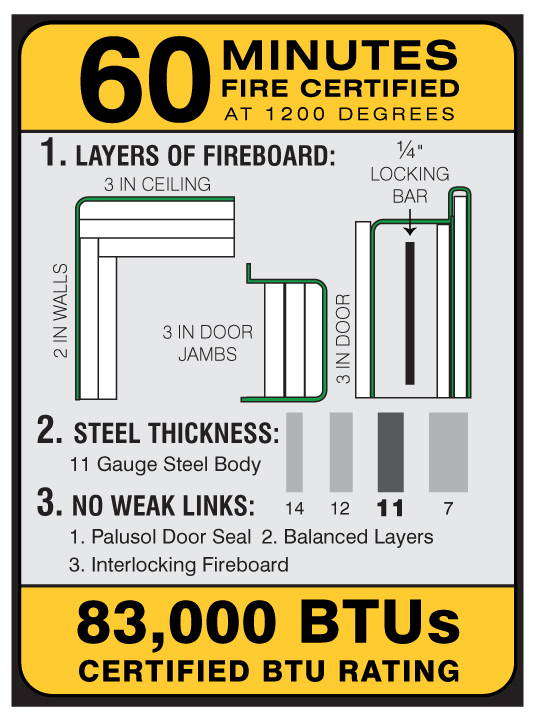 What about Fire Protection?
Level 3 safes offer more protection from fire than Level 2 safes.
2 layers in the walls
3 layers of fireboard in the safe's ceiling, door and door jambs for Colonial models
4 layers of fireboard in the safe's ceiling, door and door jambs for Fatboy Jr. models
Heat-activated, expanding Palusol™ seal.
A 60 Minute Fire Protection gun safe like the USA may be more affordable than you think.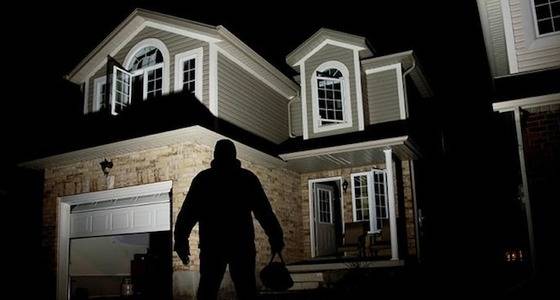 Mid-Range Security with Safe Security Level 3
Liberty's Level 3 security safes build on the security features of our Level 2 with several important upgrades. Our Level 3 security safes, like the Colonial and Fatboy 48 are:
Built with with a 1-inch composite door
California DOJ Approved
Constructed with 1/4-inch thick steel locking bars
Made with 11-gauge steel
Made with a triple hardplate lock guard
Protected by an X-Cam locking mechanism
UL-Listed as a UL 8M10 Residential Security Container (RSC)
Protect your home and family with a secure safe.
Level 3 Security safes have received certifications from both the California DOJ and Underwriters Laboratories (UL) for their security features. To carry the esteemed UL-Listed seal, Liberty Safes must go through intensive testing. Following successful testing, they are awarded UL's 8M10 Residential Security Container (RSC) certification.
Thicker Steel than Level 1-2 Security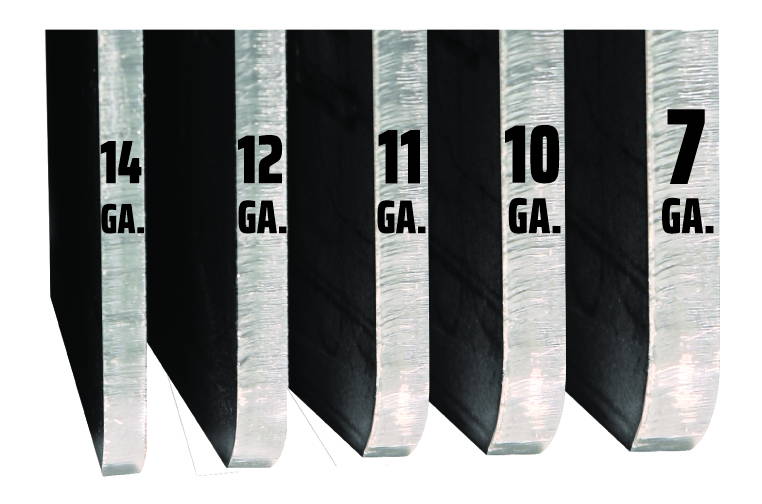 A rule of thumb is to purchase a gun safe that has the thickest steel as possible. But the thicker the steel, the more expensive a safe will be. Level 3 safes feature 11-gauge steel that is 0.1196 inch (3.038mm) thick. That is 14% thicker than the 12-gauge steel used in Level 2 Security safes. Thicker steel is more difficult to drill or punch. It is also heavier, which makes it more difficult to remove. A square foot of 11-gauge steel weighs 4.879 pounds, which is over half a pound heavier per square foot than 12-gauge steel.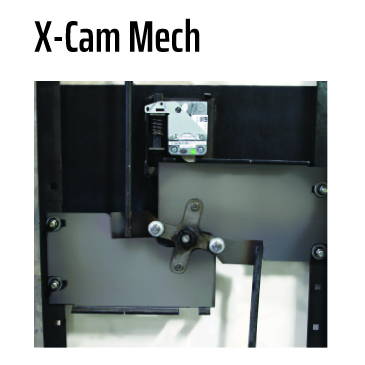 Your gun safe's type of locking mechanism matters. In a brute force or manipulation attack, your locking mechanism needs to be able to withstand a sustained attack. Level 3 Security safes feature upgraded X-cam locking mechanisms that are more secure than the direct-cam mechanism used in Liberty Security Level 2 safes.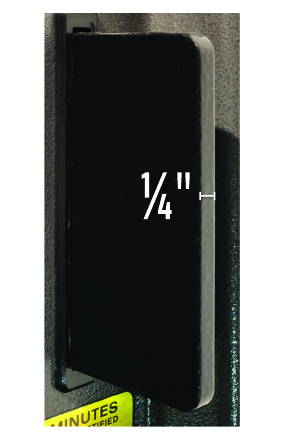 Level 3 Security safes feature Liberty's innovative 1/4-inch thick military-style locking bars. The Colonial gun safe has up to 10 locking bars. Meanwhile, the Fatboy Jr. has 8 locking bars spread around its door's four sides.
Triple Hardplate for Increased Security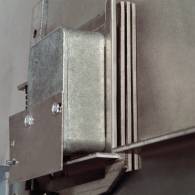 Hardplate steel is specially heat-treated to create a harder surface. Liberty uses triple layered hardplate to protect Level 3 Security safes from drill and punch attacks on its locking mechanisms. Why use triple layers of hardplate? Because it chews up and shakes drill bits to prevent a burglar from drilling completely through.
Liberty Safes offer both burglar and fire protection, which is something not all safes from other manufacturers provide. Liberty Safe makes added security affordable.