Franklin 25 - Level 4 Security - 75 Minute Fire Protection Safe
Regular price
$2,238.99
Save $0.00
---
Lifetime Warranty • Made in the USA
* Installation options and pricing are shown at checkout before any payment information is needed.
A Small Investment in Big Security
---
Backed by a 75 minutes of certified fire protection and excellent security utilizing Liberty's new 4-inch military style locking bars that are 1/4" thick, the Liberty Safe Franklin Series is built to last! With 11 beautiful finish options to perfectly compliment your home decor and Liberty's top rated 4-in-1 Flex™ interior, you can choose a Liberty gun safe that is perfect for your needs. An Electrical Outlet kit, Interior Lights and Deluxe Door Panel are included in the Franklin Package.

Lifetime Warranty • Made in the USA
Overview:
This fire rated gun safe is packed with features and options. The Liberty Safe Franklin Series offers a dynamic blend of Security and Style that is hard to beat! Bigger, Longer and military-style locking bars combined with Liberty's "Tough Door" provide an additional level of security. Take a look at the features below and you will quickly realize that these safes are packed with Features not typically found in safes at this price.
Fire Protection
Certified fire protection of 75 minutes @ 1200° F
86,000 BTU fire rating (3000 more BTUs than Colonial Series due to thicker steel)
Fire rated gun safe features 4 layers of 5/8 in. fireboard in ceiling, with 3 layers in the doorjambs and door, plus 2 layers in all walls
Palusol™ Heat Activated door seal up to 7 times its size to help seal out heat and smoke.
Security
Liberty's formidable DX-90 MONSTER MECH--This revolutionary mechanism combines its over-center cam with relocker to help prevent side-punching better than direct drive safes.
Awarded UL™ Residential Security Container burglary classification
SURETIGHT HANDLE with slip clutch innovation to help protect the lock from torquing
NEW! Up to FIFTEEN 4-Inch Military Style Locking Bars that are 1/4" thick!
33% longer bolt extension includes anti-pry tabs on the bracket. Pry resistance is increased considerably with these features!
Triple case hardened steel plates protect lock from drill attack
UL Listed S&G™ Group II lock guards against lock manipulation
Style & Function
More colors to choose from, including the hot-selling Marble Gloss finishes
3-spoke SURETIGHT handle plated in black chrome, brass or chrome depending upon the safe color
Upholstered 4-in-1 Flex™ interior with fabric covered shelving or upgraded pin-dot velour fabric on gloss models.
Models hold from 27 (25 size) up to 41 long guns (50 size)
Available in three sizes to meet storage needs: 25, 35, and 50 models
Franklin Specifications:
Security

Security Rating 
U.L. LISTED Residential Security Container (RSC-8M10)  
Door Type 
Composite INTERNAL ball-bearing hinge with inner steel 
Door Thickness 
4.5" total, 1" composite door front with 60% inner steel door plate 
Door Bar / Bolt Sides 
4 Sides all active, using 4" Locking Bars 1/4" Thick 
Lock 
UL Listed, Sargent & Greenleaf™ combination/key with internal relocker 
Lock Type 
UL Listed, Sargent & Greenleaf™  
Relocker Type 
S&G™ 6741 mechanical lock (with key locking dial) standard with optional upgrade to SecuRam ProLogic electronic lock 
Body Steel Thickness 
11 Gauge, 2-piece roll form 
Total Body Thickness 
1-3/8" Steel and Fireboard, 2-5/8" in Ceiling 
Hardplate Lock Protection 
Triple RC63 hardplates 
Locking Mechanism Type 
DX-90 Monster Mech, Over-Center Cam-Drive 
Bar / Bolt Type 
4 Inch Military Style Locking Bars - 1/4" Thick 
Bar / Bolt Protector Type 
EZ-Glide 
Fire Protection

Fire Rating 
75 MINUTES @ 1200 Degrees 
Fire Temp 
1200 Degrees Fahrenheit with 10 minute ramp up 
Fire Minutes 
75 Minutes 
Layers 
4 in ceiling, door jambs and door, 2 in walls 
Door Seal 
Heat-Activated, Expanding Palusol™ 
Style & Functionality

Fabric Type 
Pin-Dot Velour (Gray Fabric on Textured) 
Upholstery 
Fully Upholstered 
Handle Style 
3-Spoke SURETIGHT 
Interior Type 
4-in-1 Flex™ 
Interior Lighting 
Battery operated, dual Brightview wand light kit 
Door Panel 
Yes, Deluxe 
Model Details by Size

Franklin 25
Franklin 35
Franklin 50
Total Body Thickness
1 5/16"
1 5/16"
1 5/16"
Bar / Bolt Count
10
12
15
Long-Gun Storage
(PLEASE NOTE: Gun capacity may vary depending upon size of guns and scopes)
27
35
41
Dimensions H x W x D (Depth includes handle spokes and outlet kit installed)
60.5" x 30" x 28.5"
60.5" x 36" x 32"
72.5" x 42" x 32"
MIN. DOORWAY WIDTH CLEARANCE TO DELIVER SAFE*
26.5
29.5
29.5
Exterior Height
60.5
60.5
72.5
Exterior Width
30
36
42
Exterior Depth (Includes handle spokes and outlet kit installed)
28.5
32
32
FOOTPRINT (Width x Depth)
30" x 24"
36" x 27.5"
42" x 27.5"
Exterior Cubic Feet (safe body only)
25.7
34.7
48.1
Interior Height
56.5
56.5
68.5
Interior Width
26
32
38
Interior Depth
16.5
20
20
Interior Cubic Feet
14.5
20.9
30.1
Warranty
Limited Lifetime
Limited Lifetime
Limited Lifetime
Weight
665 lbs.
810 lbs.
1045 lbs.
Country of Origin
United States
United States
United States
Starting Price**
$2,049
$2,649
$3,149
*Certain dealers can deliver through a smaller door by removing the handle hub and lock housing.
**Price may vary depending on finish.
NOTE: Measurements and dimensions are + or - 1/8" to all measurements for manufacturing variances.
Liberty reserves the right to change or update product specifications, colors and model sizes at anytime.
Liberty Safes of Oregon Professional Delivery Service
Delivery Quote: To get a delivery quote, Select the items you would like to purchase. You won't need to enter any payment information.
Click the Add to Cart.
Click Checkout.
Select Local Delivery and enter your zipcode.
Click Checkout and enter your delivery address.
Continue to delivery methods and you will see the options and pricing for delivery.
Delivery Options
Store Pick-up - You can pick-up your safe at our dealership at no cost.
Curbside Drop Off - Limited to delivery of safe to curbside of residence or business within 25 miles of dealership ($2 per mile thereafter). Safe pallet and packaging are not removed during curbside delivery.
In Home - Main Floor - Garage - Limited to typical first-floor access involving 0 to 3 outside stair steps. A flat level concrete or paved pathway is required. Customer is responsible for ensuring the pathway, deck, steps, staircase and foundation are adequate to support the weight of the safe, safe transporting equipment and installation crew. Certain stairways, marble floors, or other obstacles may involve additional charges. Pallet is removed from safe during main floor and stair carry deliveries.
Upstairs/Downstairs - Includes 4-15 additional stair steps inside the home. Due to size and weight, stair carry is not available on 40 & 50 SIZE MODELS. In some cases, even the 25 and 35 size safes cannot be delivered due to landing space restrictions, stair case structure, and the spacing required for the safe and stair climbing equipment attached to the safe.


PLEASE NOTE: DIFFICULT DELIVERIES due to outside terrain, types of stairways, second floor or multiple floor installations, marble/tile/wood floors, etc. may involve additional charges to complete the delivery. We reserve the right to decline installations and or delivery involving risk of personal injury or property damage. Property title of merchandise purchased will transfer to buyer at dealer's location. If you have any questions regarding delivery requests, please contact us.
Pricing
Delivery pricing is based off the weight of the safe.
Pricing below is for deliveries within a 25 mile radius of our store. A $2 per mile charge will be added beyond 25 miles. If you live beyond 60 miles you will need to call us for a quote at (503) 351-0627.
We also offer a bolt down service for an additional $75.
| | | | |
| --- | --- | --- | --- |
| Safe Weight | Curbside | Main Floor - Garage | Upstairs/Downstairs |
| | | | |
| | | | |
| | | | |
| | | | |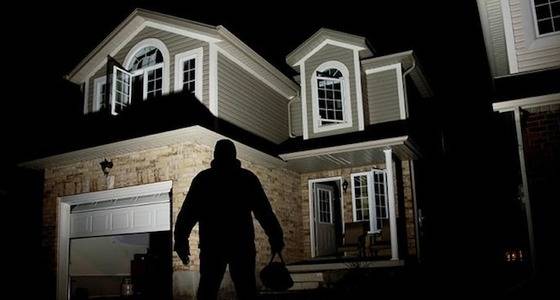 Improved Locking Mechanisms with Safe Security Level 4
The improved security features just keep coming with Liberty's Level 4 security safes. This level introduces our upgraded locking mechanism, the DX-90 Monster. Our Level 4 security safes, like the Franklin or Fatboy 64 are:
California DOJ Approved
Constructed with a 1-inch Tough door
Made with 11-gauge steel
Made with a triple hardplate lock guard
Manufactured using 1/4-inch thick steel locking bars
Protected by a DX-90 Monster locking mechanism
UL-Listed as a UL 8M10 Residential Security Container (RSC)
Tested to Withstand Attacks
Just like Liberty's Level 2-8 safes, Security Level 4 safes are both UL-Listed and California DOJ-approved. These certifications ensure your safe meets strict security, safety and quality standards before it can carry its UL-Listed 8M10 Residential Security Container (RSC) certification seal inside its door.
11-Gauge-Thick Steel Unibody Construction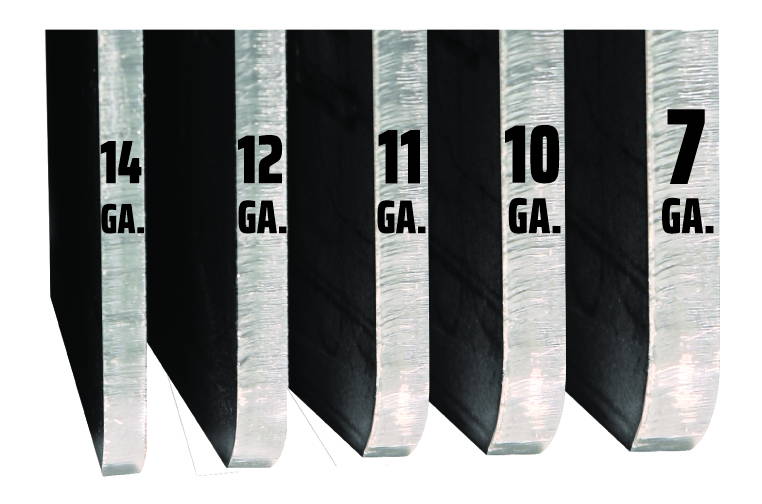 All of Liberty's full-sized safes feature unibody construction for improved body strength. The 11-gauge steel used in Level 4 safes further adds to that strength: Thicker steel helps decrease the likelihood that a burglar can successfully drill into your safe. It adds weight to your safe, too.
4.5-inch Thick Door for More Security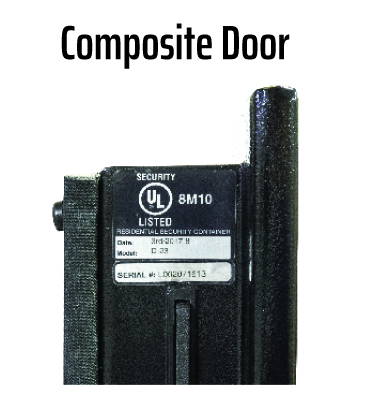 The thicker the door, the more difficult it is to pry open. Security Level 4 safes feature a 1-inch Tough Door that goes above the security of a Level 3 1-inch composite door. Level 4 doors are 4.5" thick and feature a 1-inch composite door front with 60% inner steel door plate.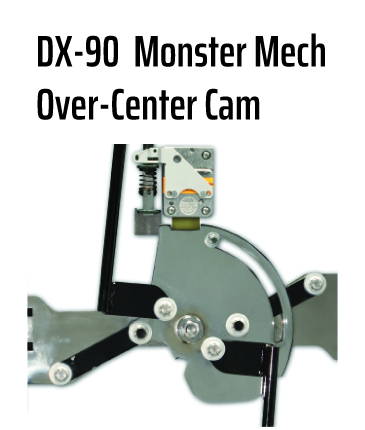 Safes that have Level 4 security feature Liberty's innovative Monster Mech. DX-90 Monster Lock Mechanism is included on all safes equipped with a Touch Door. This locking mechanism features an over-center, direct-drive cam mechanism and provides better side-bolt protection by removing all pressure from its locking bolts with a unique dead lock system. And like all of Liberty's locking mechanisms, the DX-90 Monster Mech comes with our innovative slip-clutch technology.
Military Bars Out-Perform Traditional Pins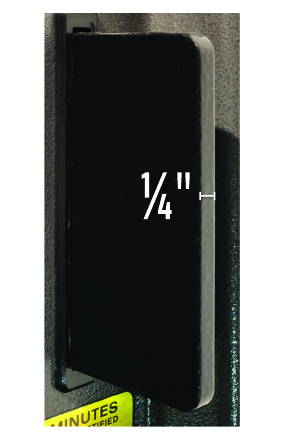 Liberty's patented military-style locking bars provide more security than traditional locking pins. Each 4-inch bar is 1/4" thick, with the Franklin Series safes featuring up to a total of 15 bars on its doors' four sides and the Fatboy 64 boasting a total of twelve 1/4" thick locking bars.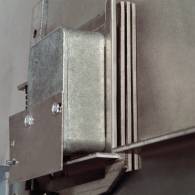 Liberty's Level 2-4 safes all feature triple hardplate steel that protects their locking mechanisms. This extremely hard steel stopped drilling attacks during its UL-Listing testing, so you can trust it to protect your safe, too!
Liberty Safes offer both burglar and fire protection, which is something not all safes from other manufacturers provide. Liberty Safe makes added security affordable.