Lincoln 25 - Level 5 Security - 90 Minute Fire Protection - Max Gun Count: 24 - Bronze Textured - Electronic Lock - Dimensions: 60.5"(H) x 30"(W) x 28.5"(D)
Regular price
$2,738.99
Save $0.00
---
Lifetime Warranty • Made in the USA
* Installation options and pricing are shown at checkout before any payment information is needed.
#1 Rated Safe in America!
---
Liberty Safe Lincoln Series safes are BIGGER, STRONGER AND TOUGHER than ever before! With its 90 minutes of Fire Protection and incredible Security Features, it is no wonder the Liberty Lincoln Safe has been consistently voted as the #1 Rated Safe by Sportsman throughout the country. Lincoln safes also include Liberty's sleek 5-point Handle, 12 Color options, Clearview Lights, and beautiful Upgraded Interiors.
When it comes to class, the Lincoln's got it! The Liberty Safe Lincoln series features upgraded ball-bearing hardplate snaps drill bits. Auto on/off Interior lighting is added to all models for convenience in viewing valuables. Organize valuables with Liberty's Premium Door Panel, plus new Jewelry Drawer for safes included FREE. The Lincoln security gun safe protects valuables from fire damage with four over three layers of fireboard for an industry leading 90 MINUTE FIRE rating.
Fire Protection
Survivor of the San Diego wildfires.  View Kim Crosser's Video
90 MINUTES @ 1200°F for superior fire protection
95,000 BTUs (9,000 more than the Franklin Series) and more fireboard than any of the competitors with similar rating claims.
Exceptional fire & heat protection, including 4 layers of 5/8" fireboard in the ceiling with another 3 layers in the walls, doorjambs and door
Palusol™ Heat Activated door seal up to 7 times its size in a fire, sealing out heat and smoke during a fire
Security
DX-90 MONSTER MECH with patent-pending over-center cam technology. No side-punching here. View Monster Mech Video
Awarded UL™ Residential Security Container burglary classification
Liberty Safe Lincoln Series reliable Tough Door includes 4-Inch Military Style Locking Bars, anti-pry tabs (defeat prying), and NEW over-center DX-90 MONSTER MECH to prevent side bolt punching.
Ball-bearing hardplate is added to protect the lock from drilling. We call it our "drill snapper!"
NEW! 4-Inch Military Style Locking Bars fortify the door
UL Listed S&G™ Group II lock guards against lock manipulation
All Lincoln models (and above) include S&G's upgraded 6730 mechanical lock, which has the same +1.25 dialing tolerance, but has dual locking wheels (harder for numbers to slip when spinning the dial too fast and hard), and brass wheel centers for extended durability.
Style & Function
Factory installed CLEARVIEW INTERIOR LIGHTING with Auto on/off whenever the door is open/closed
Liberty PREMIUM DOOR PANEL is upgraded with dual cool pockets (35 & 50 size models only) and new accent trim.

Organize your valuables on the door and free up shelf space. Quick-draw holsters, zip pockets and Liberty's exclusive Cool Pocket pouches keep papers and documents 50 degrees cooler than the rest of the safe during a fire. This addition makes the #1 selling safe that much better for fire protection.

Liberty's Jewelry Drawer is added as a FREE UPGRADE to easily organize your valuables.
Classic designed 5-point SURETIGHT handle plated in polished black chrome, brass or chrome (depending upon the exterior color)
DEHUMIDIFIER included! Plug in with Liberty's Easy Outlet Plug for quick--plug and go--electricity.
Rich pin-dot velour now on all models. Each security gun safe is fully upholstered inside Liberty's 4-in-1 Flex™ interior
Available in Liberty's three popular sizes: 25, 35 and 50 models in a variety of multiple colors, including the ever-popular Marble Gloss colors
Lincoln Specifications:
---
Security

Security Rating 
U.L. LISTED Residential Security Container (RSC-8M10)  
Door Type 
1" composite door with INTERNAL ball-bearing hinge with inner steel 
Door Thickness 
4.5" total, 1" composite door front, 60% inner steel door plate and door panel 
Door Bar / Bolt Sides 
4 Sides 
Body Steel Thickness 
11 Gauge, 2-piece roll form 
Total Body Thickness 
2" Steel and Fireboard 
Lock 
UL Listed, Sargent & Greenleaf™  
Lock Type 
Upgraded S&G™ 6730 mechanicak lock (with key locking dial) standard with optional upgrade to SecuRam ProLogic electronic lock 
Relocker Type 
Fail-Safe™ Thermal/spring-loaded inside lock plus External spring-loaded 
Hardplate Lock Protection 
Ball-bearing hardplate 
Locking Mechanism Type 
DX-90 Monster Mech, Over-Center Cam-Drive 
Bar / Bolt Type 
4 Inch Military Style Locking Bars 
Bar / Bolt Protector Type 
EZ-Glide 
Fire Protection

Fire Rating 
90 MINUTES @ 1200 Degrees 
Fire Temp 
1200 Degrees Fahrenheit with 10 minute ramp up 
Fire Minutes 
90 Minutes 
Layers 
4 in ceiling, 3 in walls, door jambs and door 
Door Seal 
Heat-Activated, Expanding Palusol™ 
Style & Functionality

Fabric Type 
Pin-Dot Velour 
Upholstery 
Fully Upholstered 
Handle Style 
5-Spoke SURETIGHT 
Interior Type 
4-in-1 Flex™ 
Interior Lighting 
Clearview Wand Lighting system 
Door Panel 
Yes, Premium 
Model Details by Size

Lincoln 25
Lincoln 40
Lincoln 50
Bar / Bolt Count
10
13
15
Long-Gun Storage
(PLEASE NOTE: Gun capacity may vary depending upon size of guns and scopes)
24
35
41
Dimensions H x W x D (Depth includes handle spokes and outlet kit installed)
60.5" x 30" x 28.5"
66.5" x 36" x 32"
72.5" x 42" x 32"
MIN. DOORWAY WIDTH CLEARANCE TO DELIVER SAFE*
26.5
30
30
Exterior Height
60.5
66.5
72.5
Exterior Width
30
36
42
Exterior Depth (Includes handle spokes and outlet kit installed)
28.5
32
32
FOOTPRINT (Width x Depth)
30" x 24"
36" x 27.5"
42" x 27.5"
Exterior Cubic Feet (safe body only)
25.7
38.1
48.1
Interior Height
55
61
67
Interior Width
25
31
37
Interior Depth
16
19.5
19.5
Interior Cubic Feet
13.1
21.3
28.0
Warranty
Limited Lifetime
Limited Lifetime
Limited Lifetime
Weight
735 lbs.
965 lbs.
1130 lbs.
Country of Origin
United States
United States
United States
Starting Price**
$2,649
$3,549
$3,899
*Certain dealers can deliver through a smaller door by removing the handle hub and lock housing.
**Price may vary depending on finish.
NOTE: Measurements and dimensions are + or - 1/8" to all measurements for manufacturing variances.
Liberty reserves the right to change or update product specifications, colors and model sizes at anytime.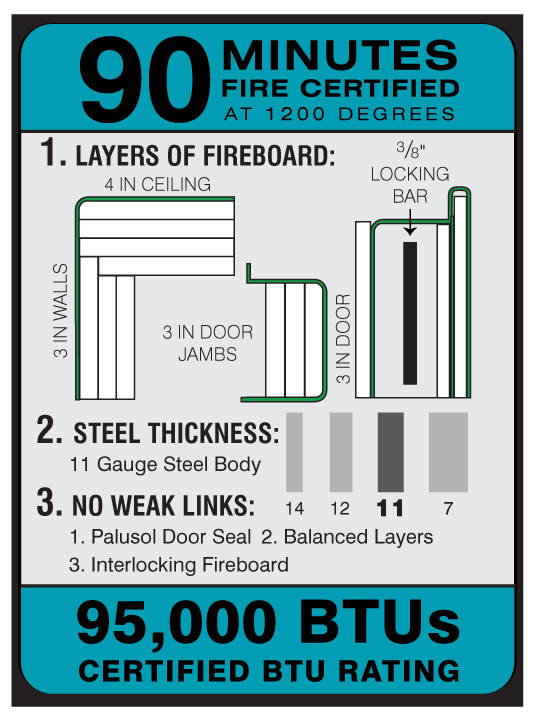 What about Fire Protection?
The best gun safes offer both burglary and fire protective features. Liberty's Security Level 5 safes provide protection from both.
3 layers in the walls, door jambs, and door
4 layers of 5/8" fireboard in the safe's ceiling
Heat-activated, expanding Palusol™ seal.
A 90 Minute Fire Protection provides exceptional fire & heat protection.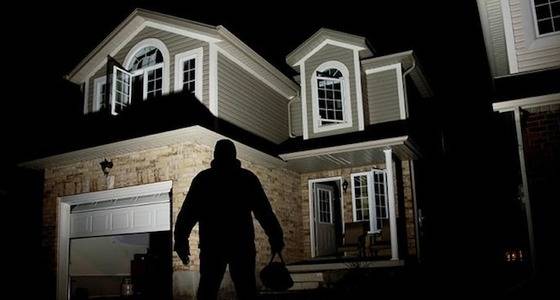 Thicker Bars and Enhanced Lock Guards with Safe Security Level 5
Level 5 security level safes offer increased security with thicker locking bars and a tougher ball-bearing hardplate lock guard. Level 5 safes, like the Lincoln are:
California DOJ Approved
Constructed with 3/8-inch thick steel locking bars
Made with 11-gauge steel
Made with a ball-bearing hardplate lock guard
Manufactured with a 1-inch Tough door
Protected by a DX-90 Monster locking mechanism
UL-Listed as a UL 8M10 Residential Security Container (RSC)
Don't settle for less than a Liberty safe!
Meets UL-Listed Requirements for RSC
The UL certification for 8M10 Residential Security Containers (RSC) is the industry standard for home gun safes. You can be certain that your Level 5 gun safe has earned its certification through intensive testing when you see the UL Seal of Approval on the inside of your safe's door.
Strong Steel Construction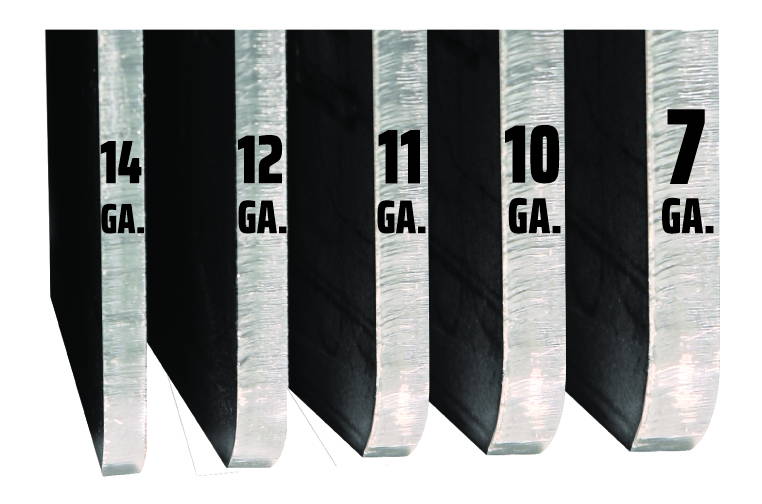 Level 5 safes feature 11-gauge steel construction. This strong steel outweighs 12-gauge by almost a half pound per square foot. You get a heavy safe that is strong enough to resist drilling attempts from burglars.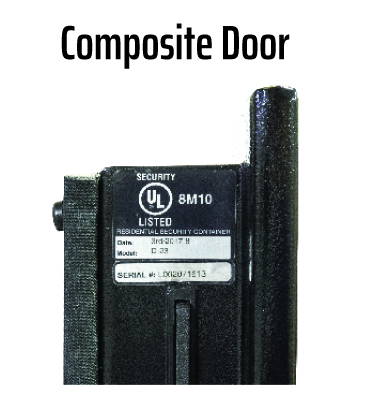 Security Level 5 safes include Liberty's 1-inch Tough Doors. These doors feature an inner steel door plate for even more security than what is offered by a 1" composite door found in Level 2 and 3 gun safes.
Monster Locking Mechanism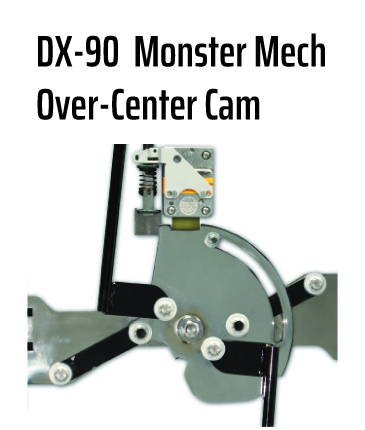 The lock of a Liberty gun safe is the first line of defense against thieves. But what happens if that lock is broken or smashed? A Security Level 5 safe features a DX-90 Monster Mech locking mechanism with an over-center, direct-drive cam mechanism. This superior mechanism protects the safe from side bolt punch attacks by removing pressure from all the safe's locking bolts.
An added benefit is Liberty's innovative, patent-pending slip-clutch technology that disconnects the safe's clutch if a thief tries to torque the handles. This mechanism is included with all safes equipped with 1-inch Tough Doors.
Even Thicker Bars with a Security Level 5 Safe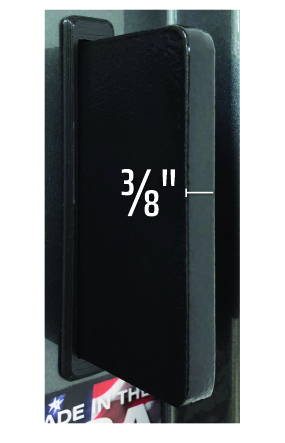 Security Level 5 safes have 3/8"-thick, military-style locking bars. These bars outperform traditional locking pins to keep burglars out with added surface for a stronger defense against a break-in. Depending on the safe size, Lincoln Series gun safes have up to 15 locking bars for excellent protection at affordable prices.
Ball-Bearing Hardplate for Superior Security

The triple hardplate steel used as a lock guard in Liberty's Level 2-4 gun safes is extremely strong. But Level 5 safes are made even stronger with a ball-bearing hardplate. This special hardplate has ball-bearings embedded into the steel hardplate. The safe's locking mechanism remains protected. A burglar will quickly become frustrated trying to drill into this plate because his drill bit will snap or just constantly spin on the bearings.
Liberty Safes offer both burglar and fire protection, which is something not all safes from other manufacturers provide. Liberty Safe makes added security affordable.